It's no secret that Mormons are a tremendous force behind funding for the Yes on 8 Campaign. According to Mormons for Proposition 8, 46% of contributions to the campaign (about $10 million) have come from Mormons. But there are other major players.
Of the ten principal contributors to the Prop 8 campaign, two are based in California. Clearly, this battle is not seen as mere California politics by many Americans. There are significant forces who are doing their best to push Prop 8 through, to see to it that government continues to evolve into a Church-of-State. Californians will have to overcome these powers of bigotry and big government to continue the progress of this land of liberty and equal opportunity; this state that has been said to be "America, only moreso."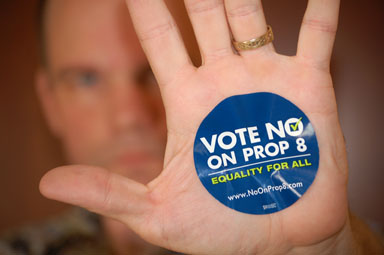 The principal (non-Mormon) contributors to the the Church-of-State Campaign:
Some notes on these principal contributors:
The National Organization for Marriage signs its checks as a resident of Santa Ana, CA, but that is only a branch. The headquarters is in New Jersey.
The Knights of Columbus is "the world's foremost Catholic fraternal benefit society."
Fieldstead & Company of Irvine, CA has been called the "Paymaster to the political right" by the Orange County Register.
The Edgar and Elsa Prince Foundation is funded with money from Prince Automotive. Edgar Prince co-founded the Family Research Council with neoconservative Gary Bauer. The current head of the foundation, Edgar and Elsa's son Erik, is also the founder and owner of Blackwater USA.
Two separate contributors from reportedly from Garden Grove, CA, Robert Hurtt & Container Supply Co., Inc, appear to be one and the same: the former state senator from Garden Grove is a perennial contributor to conservative causes, and a big fan of James Dobson.
"The American Family Association exists to motivate and equip citizens to change the culture to reflect Biblical truth and traditional family values."
The Templeton Foundation is noted for its Templeton Prize, which "honors a living person who has made an exceptional contribution to affirming life's spiritual dimension." The founder, John Templeton, was interested in answers to questions such as "How large is God? How are finite beings related to the infinite? What was God's purpose in creating the universe?" He was also interested in the question "what is the best way to live?" His answer appears to be that the best way to live is for government to dictate to citizens how they must live.
Concerned Women for America is dedicated to bringing "Biblical principles into all levels of public policy."