"No ideas but in things"
— William Carlos Williams, Patterson (1927)
Return (SP 499), a brief, minimalistic critique of excessive thought and wisdom, a sort of anthem of Jeffers' mystical materialism, and perhaps a pertinent self-critique and a stylistic departure, appeared in 1934. The same year brought the abstract and declarative anthem Rock and Hawk.
The sonnet begins powerfully against excessive thought and consciousness and then flows through the description of a kind of ritual that admits only direct contact with the world, unspoiled by the machinations of human consciousness. Thoughts are likened to mayflies that serve only to blind the hawks of our hearts.
… a little too wise.
Jeffers here sees limited value in wisdom, as in his 1944 poem Cassandra he saw "kindly wisdom" as an ironic euphemism for socially comfortable lies.
The poet visualizes thought as a kind of blinding insect cloud. This is very much in line with the major theme of Jeffers' poetry since Thurso's Landing and Margrave, only expressed here as a concise, rhymed sonnet; the structure used, perhaps, to enforce a kind of simplicity.
Sometimes it helps not to think too much, or even to possess too much "wisdom." Sometimes it is better to live simply in a world of "things:"
I will touch things and things and no more thoughts,
That breed like mouthless May-flies darkening the sky,
The insect clouds that blind our passionate hawks
So that they cannot strike, hardly can fly.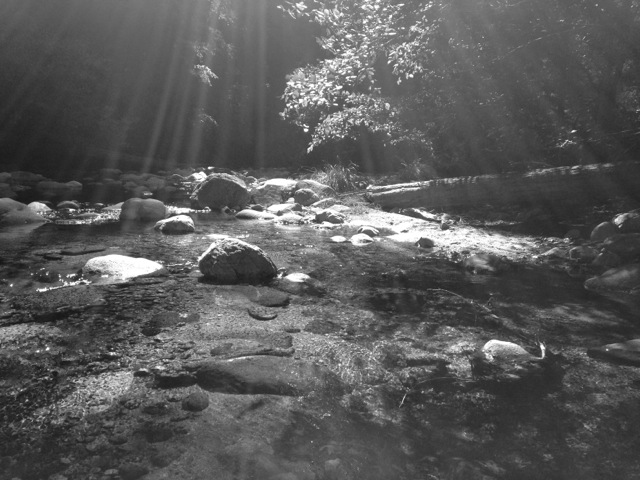 Big Sur River, Barlow Flat
Sometimes it helps not to know too much, for instance, knowing that some smaller hawks enjoy mayflies as a key component of their regular diet. But we can at least imagine that even the voracious sparrow hawk can be overwhelmed by an excess of prey.
I am inclined to think that mayflies, if they are so much more powerful than hawks en masse, should be celebrated by the poet as an example of the power that can be manifested in creatures of minimal intelligence and consciousness, but that does not apply to the point that Jeffers is making here.
Regarding the construct "passionate hawks," are hawks a particularly passionate animal, or are they cold-hearted killers? It's an odd characterization, but understandable. The seems to be using the word to identify the intense consciousness that such a focused predator must possess. That intensity and focus, that sharp "passion" is what is threatened in us when we are blinded by clouds of excessive abstraction and human "wisdom."
Biographical note: Return may have been inspired by an overnight hiking trip the Jeffers appear to have taken to Pico Blanco in August 1934.
The text of Return is available online.
––––––––––––––––––––
Return has been included in the following Jeffers-only anthologies:
The Wild God of the World: An Anthology of Robinson Jeffers, 2003; ed. Albert Gelpi
The Selected Poetry of Robinson Jeffers, Stanford, 2001; ed. Tim Hunt
Rock and Hawk: A Selection of Shorter Poems by Robinson Jeffers Random House, 1987, ed. Robert Hass
Robinson Jeffers: Selected Poems, Vintage Books, 1965
Not Man Apart: Photographs of the Big Sur Coast, Sierra Club. San Francisco, 1965; ed. David Brower.