Welcome to Tor House, the home of the poet Robinson Jeffers and his family over a span of 80 years. They moved in when the original cottage was completed in 1919. The poet died here in 1962. The family remained here until his daughter-in-law died in 1999.
In his 1994 book "How Buildings Learn," Stewart Brand, editor of the Whole Earth Catalog, wrote:
Tor House is a poem-like masterpiece. It may express more direct intelligence per square inch than any other house in America.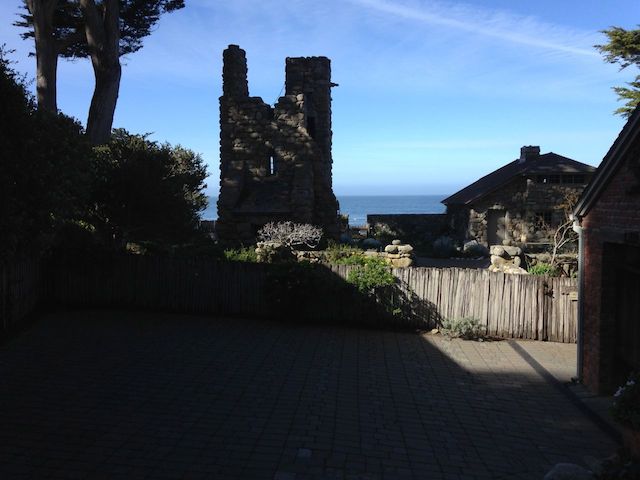 photo by Dan Jensen
Frank Lloyd Wright coined the term "organic architecture" to represent his effort to create edifices that are in esthetic harmony with their natural surroundings. The most iconic product of this effort is a house that Wright Named "Fallingwater" because he designed it for a waterfall in the Allegheny Mountains of Pennsylvania, not far from where Robinson Jeffers had been born.
Though Fallingwater is an aesthetic masterpiece, it leaves something to be desired with respect to its functional harmony with its surroundings, as it has turned out to be a rather high-maintenance endeavor over the years, as did much of Wright's work. Tor House was not conceived as avant-garde architecture, but simply as an old English cottage on the Devon coast. It is not as visually striking as Fallingwater, but that is perhaps one of its virtues. It does not scream out "look at me, bursting out of the woods with artificial light, with a waterfall plunging from my neck like a diamond chain," but rather, "I am a modest dwelling made of the native stone that the surf has chewed up for me here."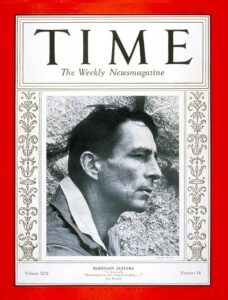 Whereas Fallingwater strikes one as a triumph of human exceptionalism, Tor House was the home of a man who rejected the chauvinisms of man, who conceived phrases such as "not man apart," and who boldly christened his personal philosophy "inhumanism."
Besides having been one of the early voices of the deep ecology movement, Jeffers was a prominent poet and dramatist. He drew rave reviews from critics and influenced artists from the Beach Boys to Charles Bukowski. His 1946 rewrite of the play Medea was a hit on Broadway, and this little pocket collection of some of his shorter poems has remained in print for a half century. He was an icon of the American West, his distinctive face having been featured on the cover of Time Magazine, in the photographs of Edward Weston, and the work of sculptor Jo Davidson.
But Jeffers had not always been an icon. Until age 38 he had been utterly unknown, having had to draw from his inheritance to pay for his latest poetry to be printed. The small type was barely readable, and the book nearly went unnoticed, a crate-load of it neglected in his attic for a year. —Next—>