In the early morning of January 21, 1962, just after Robinson Jeffers died in his downstairs guestroom, a rare snow fell — and it stuck to the ground. Because of this odd snowfall, the nearby Crosby Clambake (now the AT&T Pebble Beach National Pro-Am) was postponed.
Jeffers had expressed a desire that his death not be accompanied by mourning or ceremony, but nature seemed to have provided him with a memorial service just the same.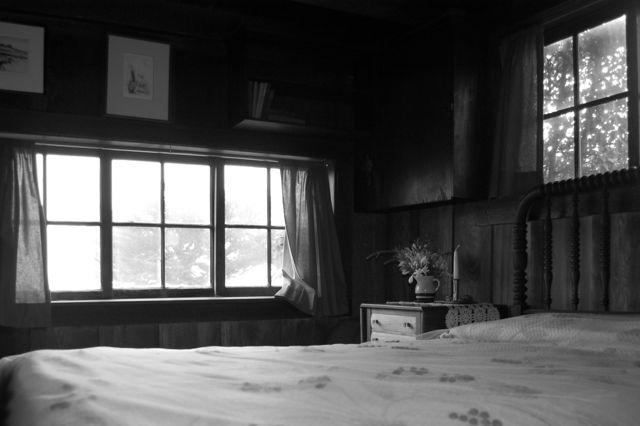 The guestroom and the deathbed (Kaweah)
A sign from Jeffers' God? Not likely: the first among the characteristics of Jeffers' God was a disinterest in human affairs. More likely, the damp cold of a winter storm was just the thing to send the old poet on his way.
Over thirty years earlier he had written, in "the Bed by the Window," that he had selected that guest bed in Tor House to be his deathbed. He evidently found this to be a source of amusement:
Unused unless by some guest in a twelvemonth, who hardly suspects
Its latter purpose. …
Though Robinson Jeffers had missed his deceased wife terribly over his final eleven years, he insisted that death was not a thing to be mourned. His remains were cremated, and his ashes were quietly interred at the foot of an Irish yew tree in his yard without ceremony, as was his wish. He had planted the tree over forty years before, about the time he completed his first stonemasonry project.
Across the yard, one can see a bulldog cemetery juxtaposed against this secretive human ash-pile. This man who boasted that he would sooner kill a man than a hawk (except the penalties) dedicated a patch of garden just outside the parlor, across from the hearth, for the well-marked graves of two family dogs. He could be painfully sentimental about the love of a dog while downplaying the importance of humanity with "a crystalline disinterest," the irony being that humanity was his favorite subject. No natural landscape, however magnificent, could ever hold his interest for long without some hint of the presence of humanity.
The heart of the poet's "inhumanism" was nakedly human. He was a private man. He was his father's son in this respect, and he certainly had his misanthropic moments, yet he was preoccupied with the human race just the same. He was human, after all. His distinction was his strident rejection of human chauvinism.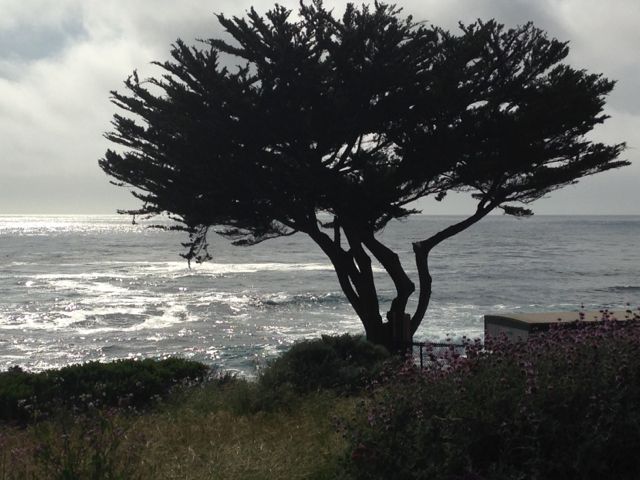 View from the poet's deathbed, with construction (Kaweah)