Continuing our discussion of the correspondences between Heraclitus and the Zarathustras, we have the directive that each one find truth for oneself; that one must never follow. As the old Buddhist epigram goes, "if you meet the Buddha on the road, Kill him." Heraclitus, likewise, bids his readers not to listen to him, but rather to the Logos. Heraclitus also says "eyes are better witnesses than ears."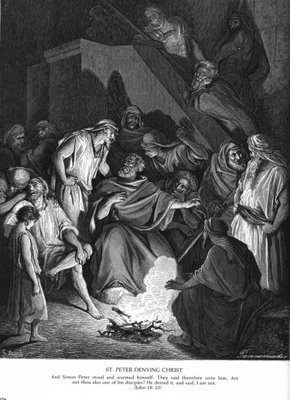 Nietzsche's Zarathustra, likewise, is intent upon shaking off his disciples, for their own good:
Verily, I counsel you: go away from me and guard yourselves against Zarathustra! And better still: be ashamed of him! Perhaps he has deceived you. … One repays a teacher poorly if one always remains only a student.

— Thus Spoke Zarathustra 1.22.3: On Bestowing Virtue
Zarathustra continues, cautioning his disciples against idolizing him:
You revere me; but what if your reverence should someday collapse? Be careful lest a statue fall and kill you!

— Thus Spoke Zarathustra 1.22.3: On Bestowing Virtue
As Heraclitus says, "I went in search of myself", so Zarathustra instructs his disciples to do the same:
Now I bid you lose me and find yourselves; and only when you have all denied me will I return to you.

— Thus Spoke Zarathustra 1.22.3: On Bestowing Virtue
This sounds curiously similar to the story of Peter's denial of Jesus:
Peter said unto him, Lord, why cannot I follow thee now? I will lay down my life for thy sake. Jesus answered him, Wilt thou lay down thy life for my sake? Verily, verily, I say unto thee, The cock shall not crow, till thou hast denied me thrice.

— John 13:37–38
In a sense, I can personally claim to have been similarly instructed by the Idol of my youth, Bahá'u'lláh, who chased me off with his manifold contradictions while he subtly—perhaps unintentionally—instructed me in the ways of divine Godlessness.
Unfortunately, I know of no doctrine of virtuous denial in Bahá'u'lláh's writings.