I returned to Lewis Camp Trailhead by way of Trout Meadows—about 16 miles with 3800 feet of gross elevation gain. Clouds had gathered overnight, so the weather was mild, with only occasional direct sunlight. I would not have minded being rained upon, as it was still possible to overheat. It's not a bad idea to keep one's hat wet.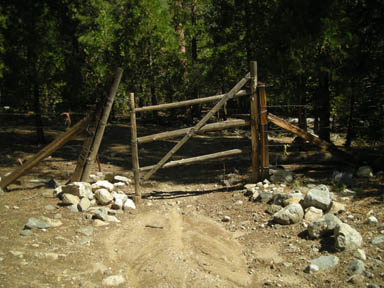 There are plenty of livestock gates along the way.
As I ascended out of Kern Canyon, I spotted my second pack train of the trip in the distance. I was taking the steep, rocky shortcut out of the canyon, and I could see the packer leading his animals down the longer, earthy and less strenuous branch. There was something mystical in the silence of that Mexican horseman lazily leading his train down into the canyon.
That train was the beginning of a number of encounters with equestrians—perhaps a half dozen, during which I spooked a dog and a horse, and caused several horses to freeze up with my mere presence. In all my backpacking days, I cannot recall ever having been such a haunting presence on the trail. It's not that I don't have the sense to get out of the way. Some animals seem to trust me less for every step I take away from the trail. Perhaps it's the big heavy ceanothus walking stick that's spooking them, if not my size 7-3/4 head and size 13 boots.
When I finally got to the trailhead, the SAR base camp was still there. Orders had just gone out to some of the workers to go get some dinner. Two days after I returned home, the Visalia Times-Delta reported details on the missing man.
This trip, I entered and exited the Sierra by way of Frazier Valley—a personal first. When I drive to or from the southern Sierra, I love to see the sinking Sierra foothills jut out of the Valley like surfacing whales. Someday I would like to try doing a photo essay on this beautiful local phenomenon. Somebody ought to!