Just after six in the morning, just as the moon set over the Western Divide, I left the Jordan Trail, taking the Cutoff Trail that heads over the tail of the Great Western Divide toward Willow Meadows and the Hockett Trail. I followed the trail and a single set of fresh boot tracks, wondering if they might lead me to a stranded hiker. I stumbled across a dozing rattlesnake, camouflaged in the sand of the trail, who barely moved in the cool dawn air.
As I descended over the hump, a helicopter began passing up and down the Trout Meadows kerncol (a kerncol is a type of saddle unique to the Kern Canyon), presumably looking for the missing man.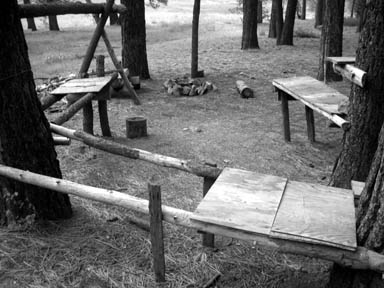 The luxury campsite at Willow Meadows Junction.
The mosquitoes also appeared in force as I neared Kern Canyon. I first noticed them at the Trout Meadows spring, a couple of meadows above Willow Meadows Camp. There were several guys preparing to break camp and continue into the canyon as I was, but I didn't see any sign of them afterward. I'm guessing they turned back when they got to the bottom of the canyon.
I might have turned back at canyon bottom if I hadn't been familiar with the route, as the trail had been washed out for about a mile along the canyon bottom, from Leggett Creek all the way to the foot of the ascent to the next kerncol. There were no tracks whatsoever, there was saturated mud everywhere, and the flooding—though subsiding—was not completely over. It wasn't hard hiking if you had some idea about the general route, that is, if you knew the trail generally keeps away from the river, and had faith that it would eventually reappear.
There's a good campsite just downstream of Legget Creek that looks like it's about to be washed into the river, and then there's the site in the heart of Grasshopper Flat, where Juan and I camped five years ago. I like to refer to that camp as "Scorpion Camp", in honor of a little critter I uncovered while starting a fire back in 2003.
I veered off the main trail at Little Kern Lake to follow a camp trail that wraps around the lake's north shore, visiting some nice beaches, and a great campsite at the northwest corner of the lake.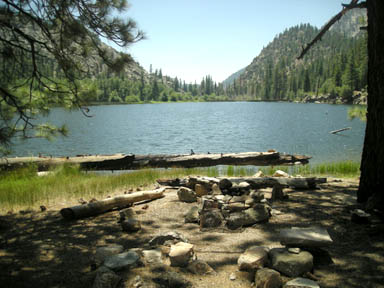 A lovely campsite on the northwest shore of Little Kern Lake.
After Little Kern Lake, I beat feet up to the point where the old trail once followed a kerncol that delivers the traveler directly down to Coyote Creek and the Kern Canyon Ranger Station. It may have been a theoretical shortcut, but there was no trail to follow, so I had to apply a couple corrections to my route finding. Though these kerncols can keep the trail safe from the ravages of rock falls and snowmelt, it seems to me that the old route over this particular kerncol was abandoned for good reason. What a workout! The current trail takes advantage of a lower, less strenuous kerncol which I have sworn fealty to in the future.
Having backpacked fourteen miles since dawn, I was trail weary when I arrived at Coyote Creek. I proceeded across the creek, by way of the huge crossing trunk, and headed down to the river, where I expected to find some backcountry campsites. When I got to the river, I threw off my pack, crossed the bridge into Inyo National Forest, and followed the meandering trail through the manzanita flat above the river. I hadn't secured my pack against critter depredations, so I soon grew worried and doubled back. I then lugged my pack back to Soda Spring, where I had recalled hearing there was a campground. Soda Spring looked rather murky, and there wasn't a fire ring in sight, so I decided to return to Coyote Creek. I crossed the creek and unrolled my sleeping bag at the foot of the kerncol that I'd taken in. It would work as a campsite, but I felt a little nervous being so close to the ranger station (no permits).
I had walked around with a bag of M&M trail mix in my hand too long. Many of the M&Ms had melted, leaving the mix resembling a loose, nutty stool.
As I collected my things to filter some water and head down canyon to camp, I was hailed by a young biologist, who directed me to the spot I had just forsaken as a good place to camp. She said she was part of a team that is tasked with removing "invasives". Feeling a bit like an invasive exotic myself in this restored territory behind enemy lines, I told her "I just want to hug my kids." She offered me an OREO for comfort, but I told her honestly that I was already full of M&Ms. I was dizzy from fatigue, which is the condition that generally leads me to hiking even more. She headed down trail with her fishing pole. I finished the M&M trail mix and headed down the canyon as soon as the coast was clear.
I camped that night at a nice campsite two miles down canyon, just north of the creek that feeds into Big Kern Lake, which is a humorous euphemism for a huge mud hole and would-be malarial swamp. I prepared to keep a companion fire going, and hoped it would repel the West Nile hummingbirds, as I had no tent to hide in. I saw one playing in the smoke and wondered whether smoke repels them or merely distracts them. No dead crows in sight, though I had seen a silly crow on my way down canyon.
I don't know what the stars were like that night. I let the little fire smolder, read a bit from the Zoroastrian Journal, took two aspirin for my knee, and fell asleep quite effortlessly.
I did have to stir enough to pump the heat out of my wife's fancy North Face sleeping bag. I might have done better with a bed roll.