Baseball "historian" Daniel Okrent righteously denounced American icon and baseball great Ty Cobb in Ken Burns' Baseball miniseries:
"Cobb is the great black mark on the history of baseball … he was a man of vile temperament and vile habit … I think that Ty Cobb in his totality is an embarrassment to baseball."
—Third Inning, "The Black Mark"
Some people just have no sense of historical context; even some people who call themselves "historians".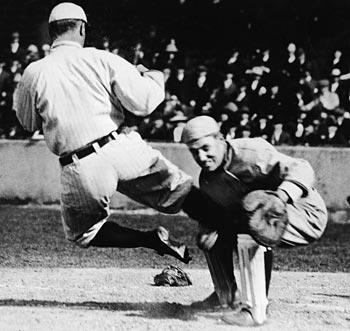 I wonder whether Daniel Okrent realizes that there were a few other racists in America in Cobb's time. Does he realize there might have been a few in Cobb's home state of Georgia during the Post-Reconstruction Era? I wonder whether Okrent has seen the 1915 film The Birth of a Nation. It might remind him just how racist a place America very recently was.
I wonder whether Okrent is aware that Major League Baseball was itself an all-white organization long before and long after Cobb.
I wonder whether Okrent has ever heard of the Black Sox scandal, and how it nearly ruined baseball. As far as I know, Cobb never threw a baseball game. It doesn't really seem to have been his style, really. He was too competitive.
Cobb was a vile racist. Cobb was a violent bully. Cobb was a ruthless competitor. Cobb was a shameless self-promoter. Cobb was a Coca-cola investor.
Can one imagine a more All-American resume?
Cobb's mother shot his father.
Good. Now we have guns in the story. Can one imagine a more All-American upbringing?
Yes, it's true that Ty Cobb assaulted a handicapped heckler. How very politically incorrect of him! How insensitive to the underprivileged! I suppose he would also hit a girl or even a bespectacled girl! This was no "Christian gentleman".
But it is also said that Ty Cobb paid Shoeless Joe Jackson a visit in Jackson's hometown of Greenville, SC after Jackson had been expelled from Baseball. Imagine that: compassion? Could Cobb have been human after all?
Ty Cobb was a remarkable man. He wasn't anybody's hero, but he was an American phenomenon, and a phenomenon worthy of awe.
Further Reading
Tom Stanton: Cobb was nicer than most people think.