Welcome to LA. No, there's not a big green road sign announcing "Los Angeles City Limit" at Trail Pass, but maybe if there were it would not be entirely inaccurate. It is, after all, the City of Los Angeles that runs this place. It's their water, and their power.
The Hockett Trail proceeded from Trail Pass—or possibly Mulkey Pass—down to Cottonwood Creek, then followed the approximate path of present-day Horseshoe Meadows Road, perhaps running a bit higher around Wonoga Peak to avoid some heinous cliffs.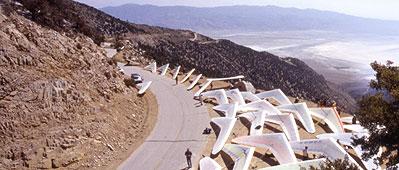 Horseshoe Meadows Road (completed 1967) at Walts Point.
Exploring the Southern Sierra: East Side indicates that before 1967 the only trail down from Horseshoe Meadows went down Cottonwood Creek all the way to Owens Valley, but that is clearly not the case. It is a well-known fact that the Hockett Trail began at Carroll Creek, where there was once a busy pack station, shown on this map from the Inyo Independent: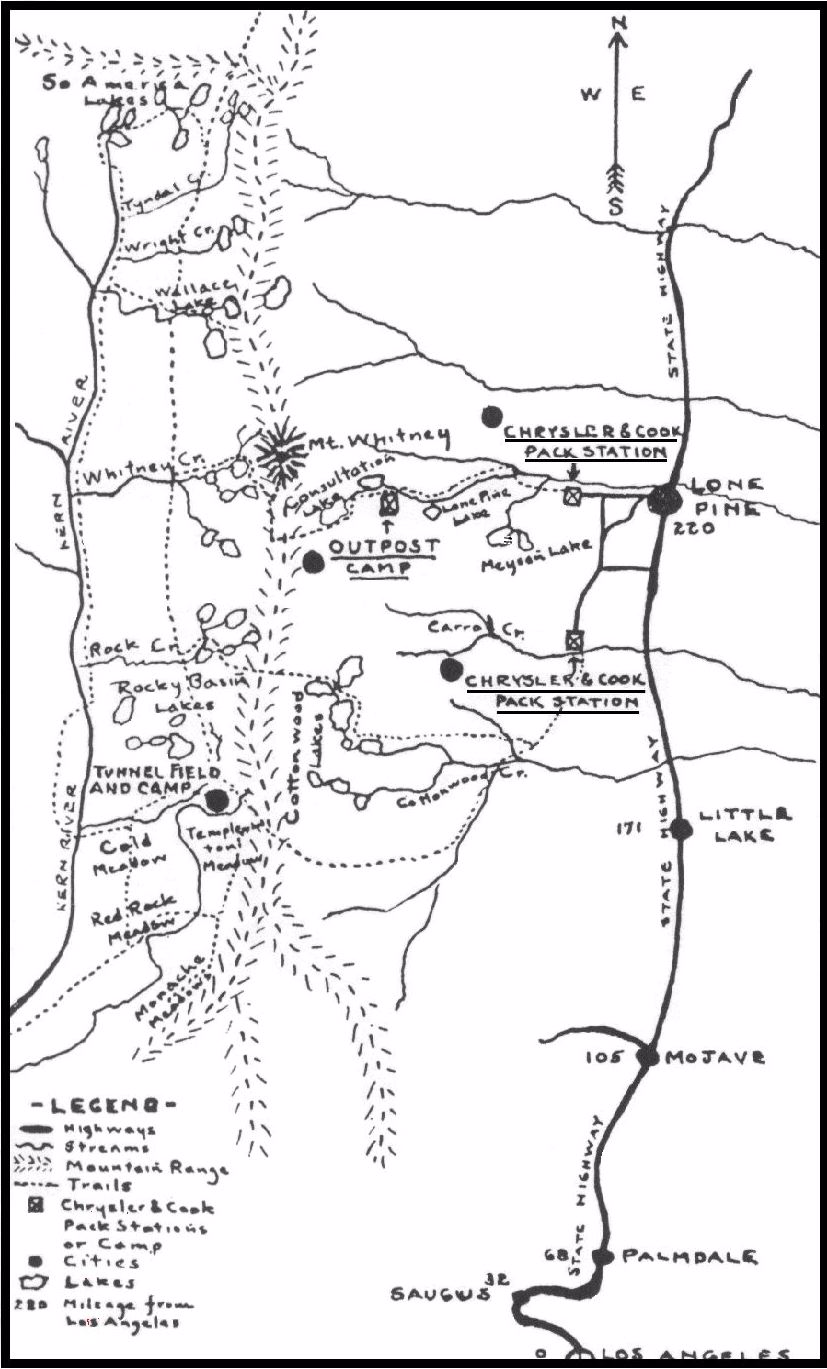 Carroll Creek is now the site of De La Cour Ranch, where cabins and tent cabins can be rented at the foot of Hockett Hill.
"After leaving the plains below Lone Pine this trail rapidly climbs the dreaded Hockett Hill. All travelers try so to arrange their journey that this hill is climbed either in early morning or late in the afternoon. The real hill begins where the desert sloping up from Owens Lake meets the main mountain wall. Here a stream from the snow higher up has made a feeble growth of shrubby trees which mark the last shade and water for a long- time… The view from the trail, however, is magnificent… And just as the pines begin to come in more and an occasional patch of snow is seen on the highest ridges (July) the trail will take a little drop and halt before a small stream, the first water since leaving the bottom. This is Little Cottonwood." — Hubert Dyer, Sierra Club Bulletin, 1893
The views are magnificent indeed, and more than a little frightening to the average back seat driver. I don't know if I've ever seen a more awe-inspiring descent. I find it hard to believe that people actually ride bicycles up this mile-high monster. It makes one wonder how a trail could have been there, but the trail was there. In fact, it is shown on the 1981 Sequoia National Forest map, though it was cut at numerous points by Horseshoe Meadows Road. Much of the cliff faces seen from along that road were of course blasted for that road, and do not predate it. Also bear in mind that broad roads of this kind cannot work around the native cliffs as trails do.
See Exploring the Southern Sierra: East Side by Jenkins & Jenkins: Horseshoe Meadow Car Tour (T109) and Trail Peak Climb (T113). Also see Hiking California's Golden Trout Wilderness by Suzanne Swedo: Trail Pass, Mulkey Pass, and the Pacific Crest Trail (27).