The Bahá'í Faith drove many of the big decisions in our family, and I'm certain that much of Mom and Dad's time was dedicated to the Faith, yet I can't remember much, if anything, about the Bahá'í Faith from our time in Walterboro. Maybe I was too young to be involved in all that.
I do remember that one of the neighbor kids had been named Jesse Owens.
Perhaps the most prominent event from our time in Walterboro, as far as my five-year-old mind could gather, was the day when everybody seemed to be talking about Joe Frazier, a local boy from Beaufort, and Cassius Clay (who had taken the name "Muhammad Ali" years before). As far as I can recall, there was a fight between the two names, and the name "Cassius Clay" had won the fight, but I later discovered that I had got it wrong.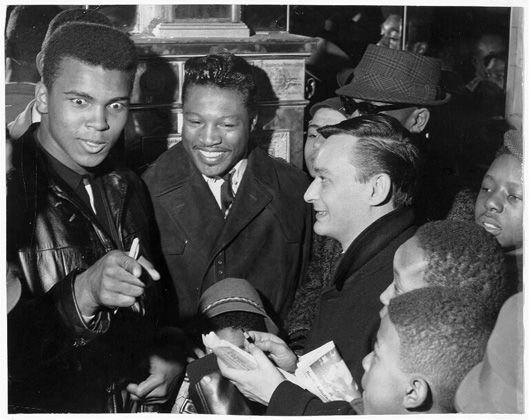 New York Journal-American Staff Photo (De Lucia)
Source:
HRHRC
, University of Texas
I used to shrug at that memory, thinking of it as a historically meaningless sporting event, bemused by the fact that I had remembered the loser as the winner, but over the years I have come to realize that Ali may have been among the most influential men of the time. What could we Bahá'ís, with all of our enlightened racial profiling and spiritual bureaucracy, do for Black America that this man could not do with his skill, intelligence, adaptability, toughness, political courage, and poetic hubris? Here was a new breed of exemplar for the ever-so-humble American Negro: "no Vietcong ever called me nigger."
By the way, you may be wondering where Ali got his quick step and gift of gab. You guessed it: he's Irish.