There is a community just outside of Walterboro, South Carolina, known informally as "Catholic Hill", with a remarkable history. Back in 1856, well before Emancipation, a Catholic church building burned down. The white membership disbanded, leaving the parish, for all practical purposes, defunct.
St. James the Greater
Fast forward to 1897, across the closing decade of the Slavery Era, the Civil War, and the Reconstruction. A vibrant Catholic community of former slaves and their descendants are discovered. They had been worshipping for over 40 years without a priest or any support whatsoever. Now, after 180 years, the church of St. James the Greater is still going strong.
I was not raised a Catholic, though it might be said that Dad was. As far as I can recollect, his upbringing as a Catholic amounted to being told by a priest that he was going to Hell. His mother had been raised in a very strict Catholic tradition in a Nova Scotia village where Gaelic was still spoken. She had rebelled after the priest had reported to her father that she had been seeing a Protestant boy. She married a Lutheran years later, but she still appeared to retain some Catholic allegiances. I'm told that she was excommunicated, but ultimately exculpated by the Church.
When we moved to Walterboro from nearby Ruffin, we rented a house on the edge of a black neighborhood, near St. Joseph's, a relatively new church that had been founded as an outreach effort by the Diocese and the Trinitarian Order about ten years earlier. St. Joseph's had a school program, so I naturally attended kindergarten there. I remember walking down the bumpy dirt road to the church with the Owens boy who was my friend at the time. I remember all the great wooden toys they had, and I remember the processions of costumed giants occasionally passing by. Perhaps I had been there for mass as well.
As far as I was concerned, it was just a great place to play. Years later, I was told that I was the only white child there. Until that time, I don't think I had given any thought to the color of the people there.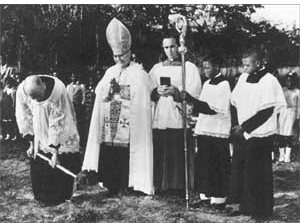 The bishop breaks ground at St. Joseph's.
Unfortunately, St. Joseph's did not enjoy the longevity exhibited by St. James the Greater. Sometime back in the 1990s, the Trinitarians left town and the Diocese abandoned St. Joseph's. It seems hard to see it as anything but a lost opportunity for Walterboro and the Diocese to expand on a unique religious heritage.