Read more about this in Men Without Fear, available at Amazon.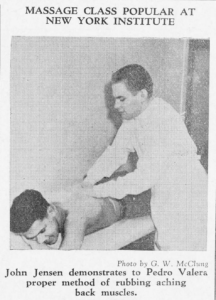 After graduating from the New York Institute, Dad moved to Bedford Hills and then Katonah (both within several miles of home), and studied massage therapy at the Swedish Institute in Manhattan for 9 months.
At age 22, Dad followed his parents to Bernardsville, New Jersey, where his father was a caretaker on another property, apparently the exquisite Blairsden Estate. [1]
At age 23 (1947/48), Dad enrolled at the Chiropractic Institute of New York [2]. He helped to pay his way by working as a masseur. Though chiropractic was surely Dad's choice, that choice may have been influenced by his father's dream that his son would become a doctor some day. [3]
Dad opened his first chiropractic practice at age 27 in the town of Rye, NY, perhaps in his parents' apartment. He moved his practice to New Rochelle a year later. His parents and his sister moved in with him. This made it difficult to present the office as an office, but his mother surely helped however she could [4]. One of Dad's best friends was fellow chiropractic student Nick D'Amato. Nick happened to be a brother of boxing trainer/manager Cus D'Amato, but more important, Nick was a kind of saint. To Dad, Nick was a faithful friend, and occasionally a practical joker. He helped Dad however he could, such as helping him with lecture notes. He was the friendly, helpful type. During the war, Nick had specialized in helping soldiers, many of them amputees, cope with their physical and psychological wounds.
© 2015 Kaweah
. . . . . . . . . . . . . . . . . . . .
[1] Fred Tarrant remembers visiting Dad and his family at Bernardsville
[2] 325 East 38th Street, in the Murray Hill neighborhood, presently the Indonesian consulate to the UN.
[3] According to Fred Tarrant, Grandpa had a singular, unwavering dream that Dad would become a doctor. Fred knew Dad's parents, having stayed with the family on several occasions. He claims to have had the highest respect for Grandpa, though he admits that he liked to rile Grandpa by talking to him about controversial topics such as evolution.
[4] Fred Tarrant remembers visiting the Dad's New Rochelle office.