Read more about this in Men Without Fear, available at Amazon.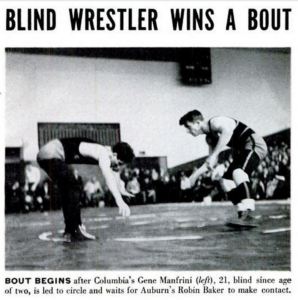 Another blind wrestler who attended New York Institute and competed for McBurney YMCA was 145-pound Gene Manfrini, who won several NY Metropolitan AAU titles, competed at the 1947 National AAU wrestling championships in San Francisco, and was a standout at Columbia University where he is featured here in Life Magazine (April 16, 1951). Manfrini was four years younger than Dad.
These photos are from a spread in the April 16, 1951 issue of LIFE. Note Manfrini's passive, relaxed starting pose. Also note the remark about his excellent sense of balance.
Manfrini may have been a bit of a late bloomer. Though he competed in the AAU nationals at age 18 and later shined while studying at Columbia, the records that I've found from when he was probably a sophomore at the NY Institute show him losing matches in the 125-pound class.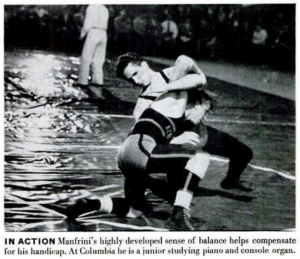 More from Manfrini's obituary:[1]
"He learned the piano, violin, and organ, and also became an honor student. On the violin, he reached the virtuosity of the Vivaldi Concerto in A Minor. His instructor went back to England and he took up the piano. He played everything from Boogie Woogie to Bach for the rest of his life. At age ten, he sang in the institute's choral group which performed with the New York Philharmonic Symphony Orchestra under Leopold Stokowski at Carnegie Hall."

"… In the fall of 1948 he entered Columbia College. He undertook "General Studies" which the college required in order to prove himself. In February of 1949, he was officially admitted because of his straight "A" average, and not because of his handicap."

"… Columbia wrestling coach Dick Waite said that Gene had one of the finest sense of balance that he had ever seen, and he had complete control of his body at all times. He asked no concessions because of his blindness. His only request was that the referee remained still while he was in the ring."

"… He eventually built his Piano Tuning and Rebuilding business into the best in this country. His clients consisted of Irving Berlin, Horowitz, Arthur Rubenstein, RCA, Columbia Recording, Frank Loesser, Arthur Schwartz, Harold Arlen, Thelonius Monk, Dave Brubeck, Andre Kostelantz, Roseland Dance Land, Julliard School of Music, and many more.

"For years, Gene had his own music group, The Mood Men. They played throughout NYC in many nightclubs. They also played in New Jersey, Lake George, and Ticonderoga. His great love of classical jazz made him well known and loved.

"Until about 15 years ago, Gene traveled all over New York City, The Bronx, Brooklyn, New Jersey, and even Europe without a cane or a dog. His sense of balance and hearing was unequaled.

"Traveling in New York City eventually became hazardous, and after several instances of falling into holes that were left open, he began to use a guide dog. During his life he had two, Lindy and Fanny, and a bond was formed with both dogs that only a blind person could understand."
© 2015 Kaweah
. . . . . . . . . . . . . . . . . . . .
[1] Manfrini died 23 June, 2008 at age 79.