Johnny "J.J." Jensen got into wrestling while attending the New York Institute for the Blind. He began to wrestle competitively at a time with the Institute's wrestling coach began to promote his team of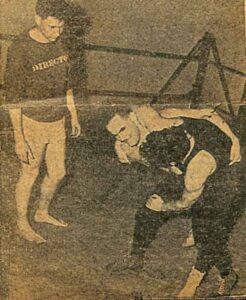 blind kids and drive them around to tournaments.
J.J. was dedicated, and he was good—one of New York's best. He was made the Institute's team captain in his sophomore year (at age 17) [1]. He even won a Metropolitan AAU title [2]. I don't have a record of that one, though one of his biggest defeats was featured in the NY Times. He got to the senior Metropolitan final in March 1944 and got beat by the national champion, Lawrence Cowell of the West Side Y.
John had been heard to say that wrestling was his religion, and he backed up that claim by putting wrestling before just about everything else.
At one point, John began to work out on Friday nights at the 23rd Street YMCA,[3] also known as the McBurney YMCA (since 1943). He would also compete on the Y's team [4]. At the Y, John would get to workout with several 1947 metropolitan champions: Murray Edelman [5], a Jewish-American in the 135-pound class, and Chris Soukas, a Greek-American in the 155-pound class, as well as the NY Institute's own Gene Manfrini (145 pounds, Dad's own weight class [6]). John's buddy from the Institute, Fred Tarrant, also worked out at the Y. Fred wrestled at 155 pounds, and he was good enough to make the 1944 national semifinals.
. . . . . . . . . . . . . . . . . . . . .
[1] Pelham Progress, 15 Dec 1942.
[2] The records on wrestling are quite sparse, particularly when one waits till 70 years later to do one's research. I haven't been able to find any record of Dad winning a specific tournament. The championship referenced in his school records could have been in a junior competition, which are poorly covered in the press.
[3] At 213 W. 23rd Street until it moved to 125 W. 14th Street in 2000.
[4] The only record I have of it is a reference to a YMCA meet in his school records. Mom recalls that the Y won at least one meet with Dad on their team.
[5] Or Adelman. Edelman won over a dozen Metropolitan titles and at least one junior National title.
[6] The only record of him wrestling at another weight was at 165 pounds, a week after he'd wrestled at 145. He was clearly wrestling a bigger guy, and he lost that bout.