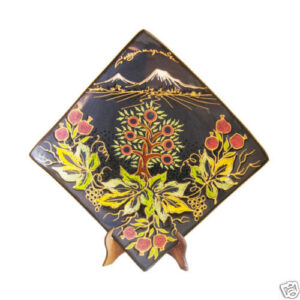 When it began, in the old land,
Ararat and the noor seed, and the night skin
Cracked, and the sun slipped through,
Fat pomegranate boiling up with red arils
In thousands, and a little snow on the greater cone
Thawed and watered the seed that through March
And June became the noor tree.
A breeze blew through August, October bloomed,
And red orbs grew fat on her slender fingertips,
Loaded down her mighty arms to the earth
And the sun came down from the mountain,
Like pomegranate swelled and cracked,
And doves flew in, cut the red skin and grew
Fat and round on the tree, that bride
Who cast the virile fruit to the ground,
And the aril and the earth and the sun and the snow
Gave birth to Ararat's children.
Three pomegranates fell down from heaven:
One for the storyteller, one for the listener,
and one for the world.
© 2013–15 Kaweah