The Bahá'í religion, though Islamic in its fundamentals, retains a remarkable wealth of Zoroastrian residue from its Iranian heritage.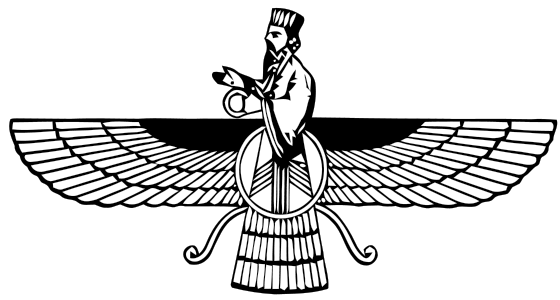 The Most Great Peace
In spite of all the prophecies of doom that I had to endure as a young Bahá'í, I remember having a vision of a more distant future utopia; a clean, civilized world civilization that would balance urban and rural economies, and accomplish great scientific and technological feats. This is what Bahá'ís call the Most Great Peace. Though I now find it unrealistic, I still look back on that naive vision with sentimental sighs of what might have been if reality hadn't broken into my childhood and robbed my world of its innocence.
Yet there are many Bahá'ís who still look forward to the Most Great Peace.
It was years after I abandoned that vision that I encountered the ancient vision in whose womb the Most Great Peace appears to have been conceived. I discovered that the ancient Zoroastrians also had such a utopian vision of a renewed, purified world. Note that they weren't looking forward to the end of the world, but rather its reform and renewal. This vision permeates both Bahá'í and Zoroastrian world views.
Progressive Revelation
It's not just a utopian view of the future that these oldest and newest of Iranian religions have in common, but their views on the purpose and history of religion are also quite similar:
Be it known that, the reason for mankind becoming doers of work of a superior kind is religion; and it is owing to it only that there is a living in prosperity through the Creator. It is always necessary to send it (religion) from time to time to keep men back from being mixed up with sin and to regenerate them. … All the reformers of mankind (i.e. prophets) are considered as connected with its (religion's) design;… —Dénkard 3.35
Thoughts, Words, & Deeds
The phrase "doers of work" in the above passage is reminiscent of the great Zoroastrian mantra "good thoughts good words good deeds." Does this not recall one of characteristic themes of the Bahá'í Faith, as a religion of deeds that recognizes the influential nature of words?
Glory, Light, & Fire
As I've discussed before, the closely related themes of fire, light, and glory are also held in common between these two faiths. Some of this commonality can be tracked through Iranian religious themes of illumination and glory from Zoroastrianism through Shí'a Islám to the Bahá'í Faith.
The "New" Calendar
Then there's the Bahá'í calendar, which is based on the old Iranian solar calendar—from name days, feasts, an end-of-year adjustment, to No Rooz itself, rather than the lunar Islamic calendar, except that the Bahá'í calendar replaces the natural 12:1 lunar:solar cycle ratio with 19:1, and inserts a month of fasting (in Islamic fashion).
Fire Temples and Sunrise Temples
Even the Bahá'í "mashriqu'l-adhkar", a term that carries an intimation of fire in its meaning "dawning place of remembrance" seems to hearken back to the old Persian fire temples than the Islamic mosques that were also inspired thereby:
… The fire-temples of the world stand as eloquent testimony to this truth. In their time they summoned, with burning zeal, all the inhabitants of the earth to Him Who is the Spirit of purity. —Bahá'u'lláh, in a letter to Mírzá Abu'l-Fadl
Etc.
emphasis on cleanliness
love of gardens (Zoroastrians are famous gardeners)
15 as the age of maturity (or is it technically 14 for Bahá'ís?)
Some related entries: