The Pahlavi term for the Glory of God, "Farrah" (originally the Avestan "Khvarenah"), is sometimes translated in Arabic-Persian as nūr ("light"):
Fundamental to the concept of khvarenah are its connections with light and fire, attested in the root from which it is derived, khvar ("to burn, to glow"), which is probably … connected with the same root as hvar, "sun" (Duchesne-Guillemin, 1963, pp. 19–31). This explains why khvarenah is sometimes translated in Greek as doxa ("glory") and in Arabic-Persian as nūr ("light"). —Encyclopedia of Religion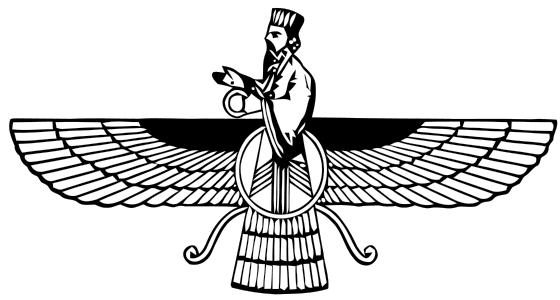 The Zoroastrian Faravahar, thought by some to represent the "Glory of God"
Though this concept of divine glory, light, and bounty was dominant in the native religion of Iran, there is little or no indication that the Iranian nobleman and prophet Mirza Husayn 'Ali Nuri was consciously aware of it when he was given the Arabic title Baha' (Glory) by his religious leader Sayyid Ali Muhammad Shirazi (the Bab). The nobleman of Nur later extended that title to Baha'u'llah, "Glory of God".
We might well wonder how such a coincidence occurred, that a man's title might correspond so well with the name of the home town of his ancestors, but this ought to come as no surprise, for the name of his ancestral home was part of his name from birth. When the Bab heard his name end in Nuri, the name Baha' must have come naturally to the Prophet of Shiraz.
Shoghi Rabani made much of the correspondence between his great-grandfather's ancestral home and spiritual title, reporting in his history God Passes By that Bahá'u'lláh, when asked to report his name and origin,
… spoke with majesty and power these words:"My name is Bahá'u'lláh (Light of God), and My country is Núr (Light). Be ye apprized of it."
Of course Bahá'u'lláh didn't have any control over the fact that he was born a nobleman from Nur, so the fact that he had such an auspicious ancestry might be seen as divine providence, but it might also be seen as a circumstance that might give a man an elevated sense of personal destiny; that is, it might be seen as a self-fulfilling prophecy.
Though I don't believe anything supernatural was involved in the naming of Bahá'u'lláh, I have not counted out the power of cultural values. In a land with such a history of fire and sun worship, where the "Glory of God" was once one of the central concepts of the dominant religion, is it too much of a stretch to assert that this name Bahá'u'lláh is a subconscious expression of Iranian heritage?