From the first crossing of the South Fork Kaweah River above Three Rivers (elev. 962 ft) to tree line on Hockett Hill above Owens Lake (approx. elev 6700 ft), the Hockett Trail is, with few exceptions, a forested trail. Even the Coyote Pass alternate over the Great Western Divide is well-forested. The only places where trees do not accompany the trail are where it crosses the Malpais lava flow and large meadows such as Tunnel, Mulkey, and Burnt Corral Meadows.
There are few places, however, where the woods that accompany the Hockett Trail could be rightly described as rain forest. Perhaps portions of Garfield Grove might be described as such with some imagination, but the original Hockett Trail didn't even have that (it was routed below the grove on a sunny ridge).
There are streams, but nearly no lakes. Kern and Little Kern Lakes were born of landslides in 1867/8, after the Hockett Trail's creation. Kern Lake is more of a marsh at present than a lake, and will soon be a meadow. Little Kern Lake might necessarily need to drop the adjective from its name.
The southern Sierra Nevada is drier than the rest of the range, but there's no lack of growth, and in many places undergrowth. In fact, the southern Sierra has forests and even chaparral at elevations where there would only be tundra in other parts of the range.
I've often encountered forest fires on or near the Hockett Trail. That ought to surprise no one, with all the sunshine and firewood at the ready.
I missed the 2002 McNally Fire, which spared the Hockett Trail, but managed to burn nearby Hockett Peak.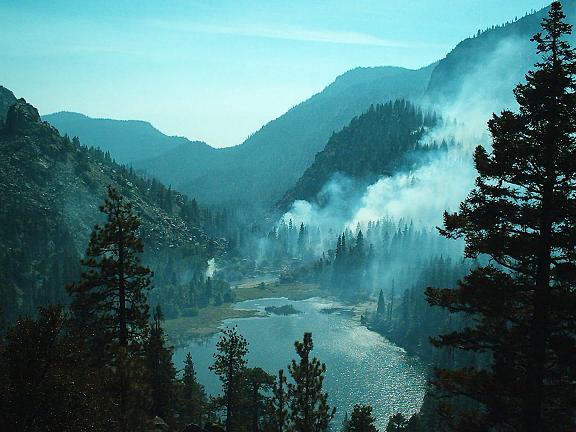 Little Kern Lake during the West Kern Fire.
The year after the McNally Fire, I had planned to backpack up the Little Kern River, but the Cooney Fire got in the way. My friend Juan and I backpacked up Kern Canyon instead, where we witnessed the West Kern Fire. Two years later, the Kern Fire struck the Kern Canyon. The next time I planned a trip up the Little Kern River was in 2006. That year, the Tamarack Fire got in the way. The Kern Canyon was hit again by the Grouse Fire in 2007. Every one of these 1000+ acre fires—except the McNally—were ignited by lightning.