Old Jacksonboro Road crosses the Savannah Highway within a half hour of Charleston. The name for this intersection is Jericho. Today it is considered part of the town of Adams Run.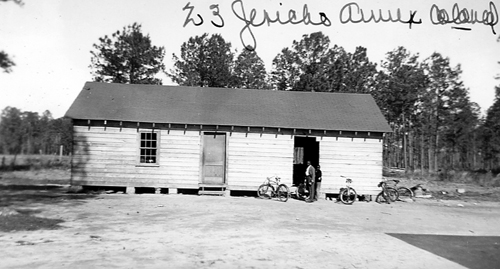 Jericho was once the site of a hotel, a post office, and a store with gas pumps. It all burned down in a couple of fires sometime after we left South Carolina a second time in 1972.
The hotel had three stories, if one counts the spacious attic with dormer windows and bath. It had exterior wooden stairways, which I remembered as fire escapes. Around 1964, it was converted to a boys' home by the Reconnu family. They operated the boys' home until about 1968.
The store came equipped with a soda vending machine that would allow a mischievous boy to yank a bottle out without paying. The trick to it was not to brag about getting a free soda to one's mom.
Mom and Dad looked at the hotel in mid-1970, and saw a place that could be perfect as a home for seven and a dog, a chiropractic office, and a Baha'i center. I must confess that if I were driving down the Savannah Highway and I saw a FOR SALE sign posted in front of that old hotel, I would have been sorely tempted to stop for a look-see.
Among my favorite memories of Jericho was the the trash pile in the back, all blackened from the last fire and wet from the last rain. I can still smell the aroma of molten plastics, rotting food, and rusted scrap metal. I also remember when a crab, recently taken from the ocean, got a hold of a cat's tail. I'm not sure how that happened, but now I suspect it probably got some help.
Across the highway, there was a hotel of a different kind that was even more noteworthy: a maze of tunnels that some neighbor kids had dug out. My memory of that system of tunnels has endured in my mind as one of the great achievements of kidkind.
It turned out the Hotel Jericho had too many hidden maintenance and repair issues, and it wasn't easy to unload. Mom and Dad weren't able to sell it for a couple years after we left Jericho.
© 2006 Dan J. Jensen